A House Hunter's Guide to the Best Places to Live in New Hampshire
Verani Realty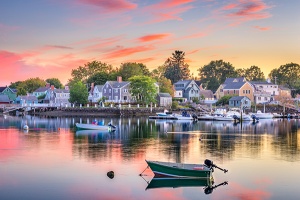 If you've landed on New Hampshire as the target of your new home search, you already know that it ranks among the best states to live in nationally. You'll enjoy a strong economy (where the unemployment rate is currently at 2.6 percent - second lowest in the U.S.), a lack of sales or local income tax, a fantastic quality of life, and a unique blend of rural, urban, and suburban locales. And, if you're in the market for a waterfront New Hampshire home, we covered that in an earlier post. While we can't feature all our favorites among the 13 cities and 221 towns in New Hampshire, here are a few spots locals know as some of the best places to live in New Hampshire.
Portsmouth, population 21,426
Home to historic downtown shops and entertainment venues, this charming suburban seaside town is a cultural hotspot that draws tourists from across the country. Its strong school system makes it a great choice for families and those just getting started. The median home value is $361,000 and the real estate scene is competitive, so be prepared to be patient. If you like Portsmouth, also consider Exeter, Dover, Madbury or Hampton.
Search for homes in Portsmouth.
Concord, population 42,537
The state's capital of Concord has a suburban feel, with a bustling and recently renovated downtown area packed with shops and restaurants, regular community events, and the historic state house where the NH State Legislature meets. Outside of downtown, the city has a mix of historic neighborhoods, farm land and preservation land, and businesses with decades-long loyalty to the state. The median home value is $204,600 and is one of the more diverse areas in the state. If you like Concord, you may also feel at home in Merrimack, Hooksett, Litchfield, and Derry.
View homes for sale in Concord.
Hanover, population 8,360
Home to Dartmouth College, Dartmouth-Hitchcock Medical Center, and other related academic and research institutions and businesses, Hanover is an educated community with a somewhat rural feel. It boasts a strong public school system, and the median home value is $490,900. If you like Hanover, also consider New London and Lyme.
View homes for sale in Hanover.
Bedford, population 21,879
Its public schools rival the quality of private institutions, making this suburb of Manchester (New Hampshire's largest city) and bedroom community to Boston an appealing choice for families and professionals looking for safe and close-knit neighborhoods. Forbes recently ranked the school system the second best in the country! The median home value is $370,000. With a great balance of amenities and open space, Bedford is known for being dog-friendly and passionate about community service and town history. If Bedford sounds good, also consider Amherst, Lee, and Hollis.
Londonderry, population 24,844.
Londonderry is a suburban town that is growing by leaps and bounds given its convenient location bridging Interstate 93 and proximity to the Massachusetts state line. Its median home value is $285,700, and the town is consistently recognized for its stellar school system and extra-curricular and recreational activities for kids and families. If you like Londonderry, you may also like Chester, Brookline, or New Boston.
Search for homes in Londonderry.
Nashua, population 89,735
Tagged by MONEY Magazine as the best place to live in New Hampshire in 2017, Nashua is a cost-effective alternative to Boston. Its urban and suburban makeup and median home price of $259,200 make this business and industry center attractive for singles and families. If the city living feeling is for you, also consider Manchester, Concord, Keene or Derry.
Ready to narrow down your search of the best places to live in New Hampshire? The team at Verani Realty has deep knowledge about NH and its communities, and they're happy to share it with you and your family either in person (find an agent today) or online with our property search that allows you to search by community or any unique criteria that matter to you.
Share This Post